The organisation of De Ruimte is based on sociocracy and is a construct of different circles; the School Circle being the organisational and administrative heart of the school. Sociocracy is a way to look at a proposal from different perspectives and to reach a widely supported decision by cooperation.
Beside sociocracy holacracy is being used and we are in the process of creating a hybrid version.
Sociocracy; making decisions within a circle
The beauty of sociocracy is that you are not putting your energy in pros and cons, but use the time to truly listen to everyone's ideas and suggestions without jumping to reactions. Everyone gets a turn to speak and in several in-depth rounds new insights come up. We call that: 'building in the centre'. At a certain point enough is said and a proposal surfaces.
The School Circle has a lot of sub-circles, for instance the mediation circle, the ICT circle, the animals circle, the garden circle, the staff cicle, the admissions circle. In many of these circles students take the role of chair or secretary. The circles arise when needed and are nullified when they become superfluous. All circles have their own purpose, mandate, responsibility and budget.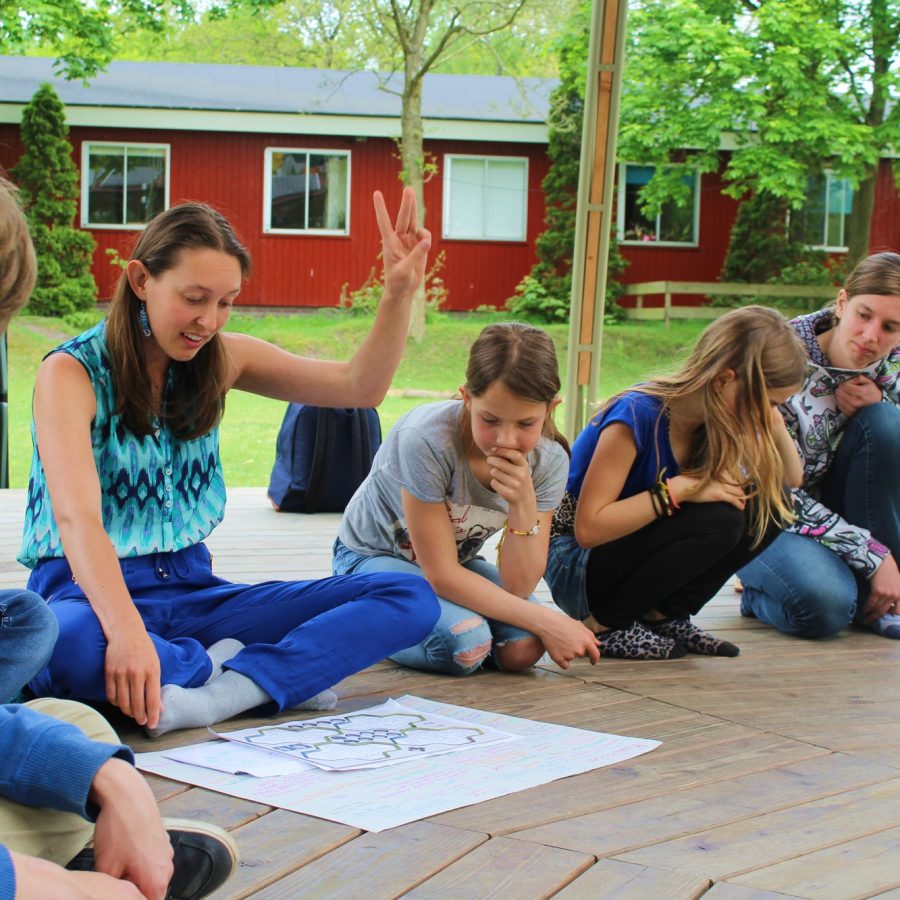 The School Circle (SK)
The accountability of the School Circle is: governing the school in a cooperation of students and staff. Sociocracy warrants the equality of all members. The School Circle meets once a week.
The following agreements apply:
All enrolled students and all staff members have an equal vote in the School Circle and are therefore called: members of the school circle;
Decisions made in the school circle meeting apply for the whole school;
The chairman, secretary, administrator and the treasurer are sociocratically elected for a period of half a school year. It is mostly students fulfilling these roles.
The Mediation Circle (BMK)
It is the accountability of the Mediation Circle to help members of the school circle with:
solving the tension in situations they are stuck in;
learning to take responsibility for the rules we have all agreed on;
recognising one's role in a conflict;
finding solutions to prevent similar stressful situations in future;
The Mediation Circle meets every school day at noon. The circle looks into the situations of conflict that are brought to their attention by means of a form. Always present are a student-chairman, a student-secretary, a student-administrator and one staff member. Everyone involved in the situation is summoned to attend. The meeting starts with clearing up the circumstances of the situation. What happened exactly and who was there? People listen to each other's versions till they all agree on the essence of the situation. Next step is that everybody present in the circle states what he or she thinks would help solve the situation or prevent it in the future, or if they think something else is needed to restore trust. Sometimes the process itself solves the tension, sometimes an action is needed, connected to a date of completion.
Ik ben nooit zo spraakzaam geweest, maar ik ben daarin erg veranderd, ik denk door de bemiddelingskring. Ik ben ruim twee jaar lid geweest van de BMK. Ik begon als haler, zoals de meesten. In het begin zei ik nooit wat, behalve 'skip' of 'ik sluit me aan bij die en die'. Maar vanaf het moment dat ik er middenin zat, is dat helemaal weggezakt; het was gezellig. Ik werd rapporteur en haler en daarna voorzitter, rapporteur en haler tegelijk. Uiteindelijk was ik vier dagen per week BMK-lid. Het coolste was toen ik voorzitter was samen met Jorrit. Omdat we niet op elkaar leken, ging dat heel goed. Ik was wat losser en hij wat strikter. Samen hebben we de werkwijzer nog veranderd, die was aan een opknapbeurt toe. Onze versie wordt nu nog gebruikt.
Melissa Landeo, oud-student
Holacracy
Beside sociocracy holacracy is used to better govern the school. In tactical meetings tensions are addressed using the steps described in holacracy. Tensions are regarded as the fuel for further development of the organisation. De Ruimte is in the process of developing a hybrid form of sociocracy and holacracy.
Als lid van de bemiddelingskring komen er best veel mensen naar me toe met de vraag om te helpen bij een conflict. Ik heb heel goed leren luisteren naar mensen en ik kan daardoor een neutrale partij voor ze zijn. Bij conflicthantering gebruik ik altijd de drie 'ruimtebasisregels' die ik breed kan uitleggen: je doet elkaar geen pijn, je stoort elkaar niet en je komt niet ongevraagd aan elkaars spullen. Mensen begrijpen dat.
Ramon Bakker, student