Since May 2016 we have our own toddler group at De Ruimte. Children between 2 and 4 are very welcome here and are given all the space they need to play.
Discovering and learning through play
One part of the school is especially designed for the very young. The purpose of this area is to make them feel at home and safe enough to go out and play. De Ruimte values playing a lot. Playing is a great way to discover and learn to understand the world. That is why playing is one of the core values of the school.
Natural transition to primary school
There is a natural flow for the young ones from kindergarten to the rest of the school (a mix of primary and secondary education). The transition is really smooth due to the fact that the kindergarten children play daily with the young students at school. At a certain point the toddler is ready to become a 'young student' and move on to the domain of younger students.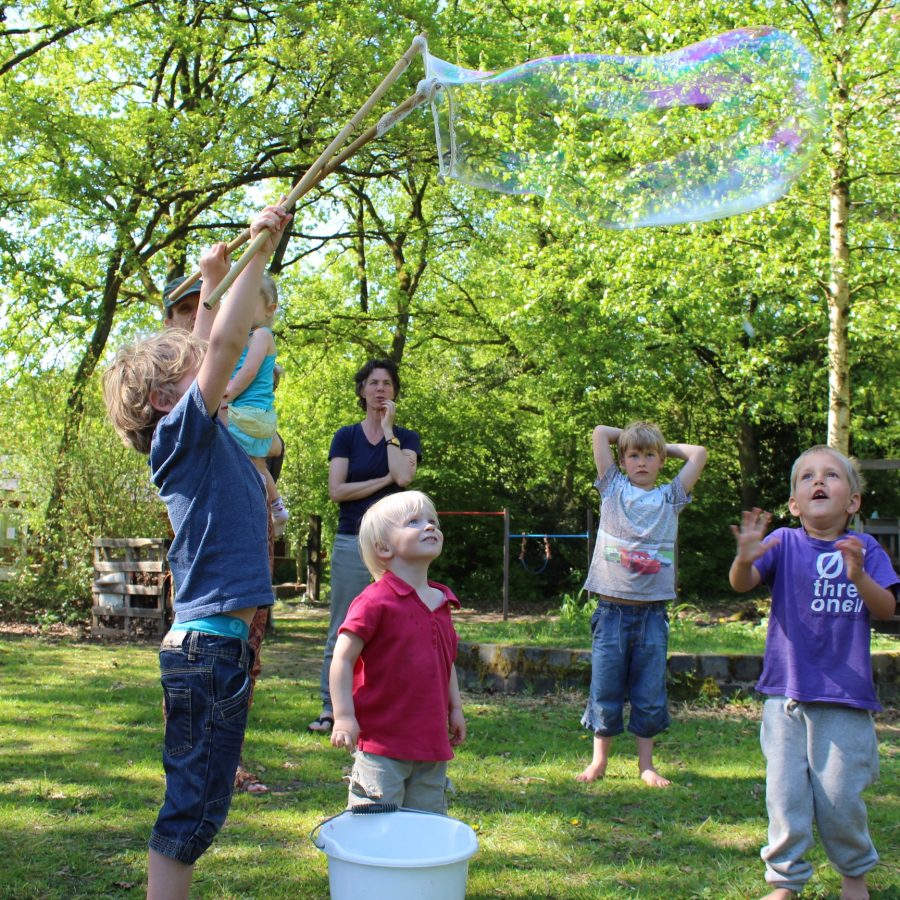 Availability toddler group
Our Toddler group at De Ruimte is licensed by the local government and can be found in the national register. Every day there is room for 8 children. We are open on Monday, Tuesday, Thursday and Friday 8:30 – 17:00.
Every Tuesday morning we have "open house" from 10:00-12:00. Except on holidays.
You can send your request here.
Fedde en Bas staan in het speelhuisje ieder aan een kant van het deurtje flink te duwen. Rode gezichten en driftig gepiep. Beide kinderen willen iets wat de ander niet wil: "Deurtje moet open!" "Nee, deurtje moet dicht!! "Een simpel conflict op wereldniveau. En ik als begeleidster wordt me gevraagd dit op te lossen in het voordeel van ieder kind. Mmmmm…. Wie ben ik om een oordeel te vellen? Ik leg in korte woorden uit aan de twee krachtpatsertjes dat ze zelf een oplossing mogen verzinnen. Na de verbazing komt het zelfsturend vermogen van Fedde naar boven: Hij steekt zijn vinger wijs de lucht in en zegt: "Ik heb een oplossing" en hij klimt het raam uit. Bas voelt geen druk meer van de deur en zoekt zijn stokjes weer op. Probleem opgelost!
Tet Lagemaat, begeleidster peutergroep
De peutergroep is de plek waar mijn dochtertje echt kan 'zijn'. Of ze nou in haar slaapzak wil rondrennen of wil knutselen; heel veel kan. Ze bepaalt zelf wat en wanneer ze eet. Of ze een lange broek aan wil of niet. Blote voeten of niet. Oké, als het echt koud is zal de begeleidster haar stimuleren om wellicht iets warms aan te doen, maar ze willen veel vanuit het kind zelf laten komen. Natuurlijk wel binnen veilige kaders.
Wendy van der Zijden